Videonetics Wins Outstanding Growth ISV 2023 Partner Award from Intel Corporation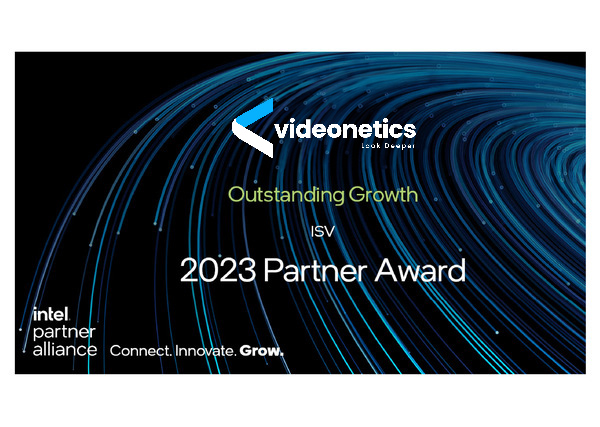 India, May 25, 2023 – Videonetics announced today that Intel Corporation has recognized the organization with an Intel Partner Award in the category of 'Outstanding Growth ISV 2023'.
Expressing on the recognition, Avinash Trivedi VP – Business Development of Videonetics stated, "We are honoured to receive the 'Outstanding Growth ISV Partner' Award from Intel. Videonetics & Intel have had a long persistent partnership that continues to push the boundaries of meeting the evolving needs of the marketplace across the APAC region and delivering powerful co-created solutions to customers. Through this fantastic partnership, we have empowered our partners and customers with state-of-the-art, resilient, and scalable unified solutions and, are committed to building a safer, smarter, and happier world."
"We are thrilled to recognize Intel's partner award winners across the APJ region," said John Kalvin, vice president and general manager of Intel's Global Partners & Support organization. "Our partners have achieved the highest standards in growth, innovation, and market acceleration. Congratulations to Videonetics for your remarkable achievements. We value your Extreme Partnership and look forward to continued success as we unleash the future together."
"We are proud to honour the exceptional partnership between Intel and Videonetics in driving innovation and excellence in technology. What makes this year's awards for our APJ partners extra special is our shared commitment in overcoming adversity, exemplifying resilience and determination amidst the prevailing macroeconomic headwinds. APJ continues to be a leading growth region and we value the collaboration with our partners in offering the best solutions and experiences to our customers. Thank You," said Steve Long, corporate vice president and general manager for Intel Asia Pacific and Japan.
Videonetics was awarded for continually applying their expertise in ways that help Intel's products outshine competitors and win customers.
Videonetics has made significant contributions to revenue and increasing the number of channel partners reached on behalf of Intel.
To qualify as a winner in this category, organizations must be a member of the Intel Partner Alliance; demonstrate year over year (YoY) growth, as well as an increase in overall partner revenue, number of partners adopted, and/or is well-positioned to increase their expected YoY growth.
About Intel
Intel (Nasdaq: INTC) is an industry leader, creating world-changing technology that enables global progress and enriches lives. Inspired by Moore's Law, we continuously work to advance the design and manufacturing of semiconductors to help address our customers' greatest challenges. By embedding intelligence in the cloud, network, edge and every kind of computing device, we unleash the potential of data to transform business and society for the better. To learn more about Intel's innovations, go to newsroom.intel.com and intel.com
© Intel Corporation. Intel, the Intel logo and other Intel marks are trademarks of Intel Corporation or its subsidiaries. Other names and brands may be claimed as the property of others.
Media Contacts

Subscribe to our newsletter and get latest updates, news in your inbox