Running a business is a continuous process that entails critical data exchange at different levels for operational functionality. Leaving your data vulnerable to cybercrime will cost you response time, revenue loss, downtime, and long-term reputational damage. Therefore, you need a modular video surveillance system that can effectively deal with cyber security concerns.
Data and information security is an integral part of our architectural design philosophy. Our solutions adhere to industry-standard cyber security norms, encryption and authentication techniques for allowing safe data exchange and communication between the system's various components.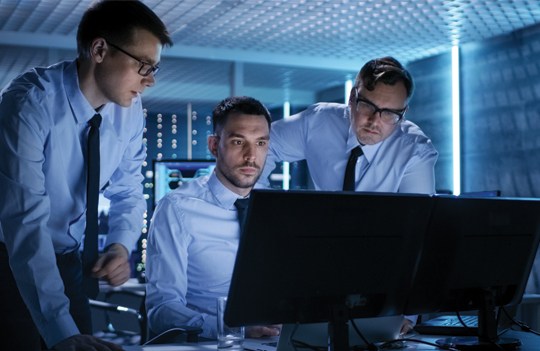 Secure Your Operations with Cyber‑Resilient Solutions
We place cybersecurity at the forefront to protect your business, people, assets and data from any cyber threats. We adopt a holistic methodology that guides our cybersecurity practises during the three main lifecycle phases, from development, deployment and Rapid response to cyber threats, so that you get military-grade protection against any security breach.

Operational Endurance
We place the utmost importance on your critical data and ensure no exposure to any vulnerability so that your operations endure and withstand any cyber threat.

Secure Development
Our solutions distinguish themselves in the industry by being cyber-resilient and tested with benchmark techniques, ensuring the highest level of safety and security throughout the product development lifecycle.

Secure Deployment
Our experts guide you through the best practises for solution design and deployment while prioritising data security.

Rapid Response
We help your enterprise identify new threats or vulnerabilities quickly and advise you on how to reduce cybersecurity risk.
For your peace of mind, we get our products rigorously tested and certified under various data security parameters regularly to attest to our focused, no-compromise cyber security program.
Download Brochure
Subscribe to our newsletter and get latest updates, news in your inbox