Unlimited Scalability & Precision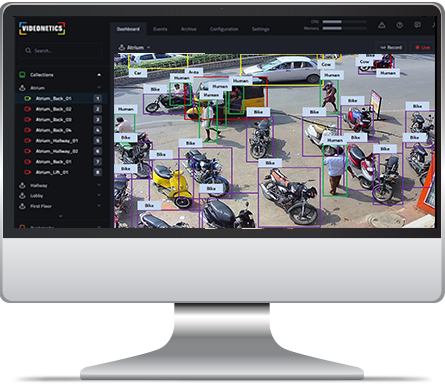 Dealing with humongous video data is never easy, especially when it involves critical information. Lack of time and resources limits enterprises or authorities ability to detect security-related incidents, identify suspicious activities, and act timely on them to avert unfortunate occurrences. Our advanced video analytics technology, powered by AI and a DL-based framework, DeeperLook™ trained on massive datasets, offers Video analytics with the highest accuracy, effectively solving real-world problems.
The robust framework of DeeperLook™ excels at detecting suspicious behaviour and identifying differences in patterns, intrinsic objects, or actions in real-time. It generates timely alerts, enabling operators to take preventive action swiftly and avert unfortunate occurrences. With our efficient monolithic unified architecture, Intelligent VMS 3.0 seamlessly integrates AI-powered video analytics, sharing computing, data path, and IT infrastructure resources. This integration results in a simplified maintenance process, ensuring seamless operation and enhancing overall efficiency.
In addition to our flexible and modular computing technology and compatibility with both on-premises, edge-based, and cloud-based computing environments, customers also reap the benefits of the lowest total cost of ownership (TCO). With feature-rich functionality and futuristic solutions, our AI-powered Video Analytics aid you as your decision-making support system by providing you with actionable intelligence.
Experience the power of AI-powered Video Analytics and revolutionise the way you handle and interpret video data for security and surveillance purposes.
Customisable Solutions Across Diverse Industry Segments
Our AI-powered Video Analytics software DeeperLook™, caters to diverse security needs across all enterprises. Regardless of size, we understand the challenges you face, which is why we offer over a hundred state-of-the-art use cases across various verticals.
Our intelligent video analytics solution is the top choice for smart and safe cities, aviation, mass transportation, small to large enterprises, critical infrastructure projects, retail, and more, thanks to its AI-powered capabilities. With DeeperLook™, you can ensure enhanced security, improved surveillance, and real-time insights tailored to your specific application criteria.

People, Crowd, Object
Get an overview of developing situations, manage the crowd, people or gain insight on objects that get unnoticed by the human eye with ai video analytics software. These analytics are highly effective for diverse scenarios like corporate offices, airports, streets, or malls.

Vehicular
Track vehicle attributes, detect parking violations, understand traffic patterns and volume by generating multi-dimensional data and enforce better traffic rules with ai video surveillance software.

Traffic Enforcement
Notify and detect traffic violators, detect stolen or hot-listed vehicles, broken down vehicles, identify and detect vernacular license plates and implement e-ticketing and violation prosecution systems for better traffic management. Also, offering a secure and flexible framework to integrate with external systems while adhering to the guidelines of the concerned traffic enforcement agency.

Highway Traffic
Track traffic volume, detect speed limit violations, detect and monitor lanes and so much more with integrated solutions for better management of highway traffic.

Law Enforcement
Detects illegal activities or anomalies, fighting, rioting, illegal crowd gatherings, investigate, identify the offender and take swift action to control any situation before it escalates.

Urban & Municipal
Maintain cleanliness on the roads, detect overflowing garbage bins, illegal construction, vandalism, illegal hawking and monitor road conditions for creating a better civic society.

Industrial Safety & Health
Safeguard your workforce, workplace and environment from unforeseen hazards with effective monitoring in real-time and train the software with site-specific data for running operations productively smoothly.

Face Recognition
Detect faces with unmatched accuracy irrespective of diverse geographic factors, various physical attributes of people for smart surveillance and security while enhancing operations with actionable intelligence. You can also integrate this built-in modular architecture with other devices such as access control and attendance management.

Women Safety
Detect unwanted incidents, questionable actions that risk women's safety, send alerts to notify the nearest law enforcement vicinity about potential abuse and create a safer surrounding.

Retail
Track footfall count, detect intrusion, manage crowd, customer dwell time, heat maps, customer path analysis data, and more to increase the operational efficiency of businesses, improve customer satisfaction, and gain significant return on investments.

Tracking
Track any intruder or object in high-security areas with a multi-camera person tracking system and generate alerts in the control centre.

Pandemic Management
Detect and generate an alert whenever people violate Covid-19 safety protocols in public or at work. Identify who is wearing a PPE kit, mask or abiding by social distancing norms. Our future-ready pandemic management analytics complies with all govt. regulations to help people maintain accord with the 'new normal'.

Forensic Investigation & Smart Search
Identify the suspect or offender with attribute search, face identification and detection, pinpoint the exact activity in the evidence video with Forensic Investigation and Smart Search Analytics and effectively build a case.
Video Gallery
Smart Urban Video Analytics by Videonetics
SAJAG Pandemic Management Suite
No Safety Helmet Detection by Videonetics
Customer Speak
As we looked to address a variety of surveillance challenges, we were assured to have Videonetics on board to exceed customer's expectations, in terms of intuitive functionalities, open architecture and accuracy. With Videonetics team, we have successfully provided a right balance between securing the people and protecting assets, to the institute.
Ujjwal Kumar Dey
Partner, Prakash Electricals