Unmatched Security, Unrivalled Technology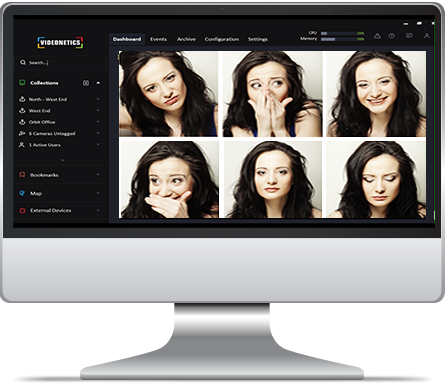 Enterprises and authorities need to gain intelligent insights on people to identify valued, unfamiliar, suspected, or new faces among them while keeping a record of them for future use. Videonetics Face Recognition System (FRS) accurately identifies and authenticates faces even in challenging situations and enhances your business operability.
The flexible and modular face recognition system uses a rich set of Artificial Intelligence (AI) based algorithms and computationally efficient modular architecture, making the software deployable both on-premise and on-cloud infrastructure. Field-proven and benchmarked by the National Institute of Standards and Technology, face recognition system follows industry guidelines while maintaining the topmost position in the industry, making it the top face recognition software company among others and the most preferred choice among customers. Trained with more than 1 billion faces, - face recognition software is unbiased to geography or various facial attributes, making it the best face recognition software applicable across the diverse world population.
Identifying Faces with Intelligent Sight
Identify, detect, search, and manage crowds on-premises, commercial or private with our face detection and recognition technology, so that no action goes unnoticed with our future-ready FRS, Powered by artificial intelligence it offers distinctive world-class features that cater to your every need.

Intelligent Search & Investigation
Detect and track in real-time or conduct an offline forensic-based search to detect, match and recognise faces with our Face Recognition System.

Pinpoint Accuracy
Conduct face detection and identification with a powerful robust system capable of recognising facial contours under the harshest conditions and complex scenarios with unmatched accuracy.

Live Alerts and Past Occurrence
View live detected faces, investigate them or their past appearances anywhere with a network of connected cameras.

Versatility
Register faces individually or in bulk, use cell phone apps to register faces, Face Recognition System can cater to your every requisite.

Responsiveness
Detect and recognise faces in less than seconds from million faces with the computationally efficient CNN-based feature extraction techniques used in Face Recognition System.

Watch List & Notification Management
Create multiple watch lists while setting specific notification rules on each of them. You can also send these notifications over SMS, email etc., to the designated recipient.

Edge-to-Cloud Elastic Architecture
Distribute computation either entirely on edge or cloud devices, partially on edge or cloud or combining both according to your needs.

Smart Dashboard & Report Generation
Obtain reports according to your requirements, such as the number of unknown faces, gender-wise or age-wise distribution.
Video Gallery
Videonetics VMS 3.0 Global Launch Webinar
Traffic Management System, Anna Nagar Chennai
No Helmet Detection & Triple Riding Detection
AI & DL Powered Industrial Safety & Security Solution
Traffic Monitoring Solutions
Customer Speak
Videonetics has not only delivered a perfect facial recognition solution, but also delivered on its reputation of providing outstanding training and support, to us and customer. Our customer has invested in the future-proof technology that has the ability to grow with their needs
Alfred Bisuk
Technical Manager, Lamjaya Inovasi Komputindo