Videonetics announces technology integration with VIVOTEK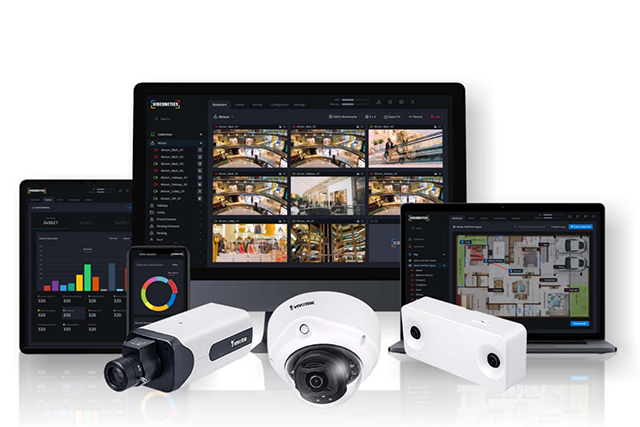 INDIA: 16 December 2021 : Videonetics, the world's first AI & DL powered Unified Video Computing Platform (UVCP™) announces the integration of its Intelligent VMS 3.0 with VIVOTEK, NDAA (National Defense Authorization Act) compliant series of edge analytics IP cameras.
The technology integration empowers operators to easily configure and change the streaming, imaging, and other parameters of the VIVOTEK cameras using Intelligent VMS 3.0 user interface, and to activate Edge Analytics applications running inside the cameras within the same unified interface. At the time of any alert triggered by Edge Analytics applications, information is immediately transferred from the VIVOTEK cameras to the IVMS application. Operators can immediately monitor and assess severity of the incident by investigating specific and associated cameras on the IVMS dynamic map and ensure that every incident is handled in compliance with the standard operating procedures (SOPs) of the organization. The SOP includes popping up of a video matrix displaying views of all the cameras within the geofence and distributing the information across various communication channels in-built in the IVMS application. This simplifies the response coordination between stakeholders and speeding up incident resolution.
Distributed computing architecture involving Edge analytics and IVMS provides an unlimited scalability in deployment of Video analytics applications across thousands of cameras in a single installation.
How Intelligent VMS and VIVOTEK Edge Analytics IP Cameras integration works?
Intelligent VMS 3.0 uses the Application programming interface (API) exposed by VIVOTEK cameras to activate Edge Analytics applications. The Edge Analytics applications send event notifications to the IVMS application in real time over a streaming protocol. The event handling mechanism of Intelligent IVMS executes the SOP associated with the event automatically.
"Videonetics is focused on developing strategic relationships and building a strong ecosystem, thereby making our technology accessible to our partners and customers. With this technology integration, I am assured that our Intelligent VMS coupled with VIVOTEK Edge Analytics IP Cameras will help our customers to deliver highly efficient solutions for varied industries." stated, Avinash J Trivedi, VP – Business Development, Videonetics.
"VIVOTEK aspires to become the Eye in IOT by drawing on its expansive technological capabilities in image and audio. In process of same Videonetics advanced VMS and our Edge Analytics offerings helps to solve the customer surveillance concerns. When we say, 'We Get The Picture', it means to understand the whole situation in a prompt manner, and to always be a step ahead to deliver the solutions demanded by our end-users." said Alex Kuo, Department Head APAC.
NOTE TO EDITOR:
About Videonetics:
Videonetics Unified Video Computing Platform (UVCP™) helps you make sense of surveillance, by providing you with an end-to-end solution for a wide range of applications. The platform is powered by our Artificial Intelligence and Deep Learning engine, which is trained on humongous data sets, making our solutions incredibly robust and smart. All our products and solutions are integrated yet modular, ONVIF compliant, OS and hardware agnostic, scalable and interoperable. Videonetics has been ranked #1 Video Management Software provider in India, and among the top 5 in Asia (IHS/ Informa Tech Research). We remain driven by innovation and committed to making the world a safer, smarter, happier place. For more information, visit www.videonetics.com
About VIVOTEK:
VIVOTEK develops comprehensive IP surveillance solutions, encompassing a broad range of network cameras, PoE switches, network video recorders, and video management software. VIVOTEK continues improving its software/hardware R&D capabilities and expanding the strategic alliances with leading international partners, achieving high-level system application, technology integration, deeply satisfying user demands across vertical markets. As the top surveillance brand from Taiwan, VIVOTEK stick to R&D, design and manufacturing in Taiwan to ensure quality, looking forward to a long-term collaboration and growth with all partners in our shared pursuit of a safe and secure society.
Subscribe to our newsletter and get latest updates, news in your inbox