RAH Infotech Partners with Videonetics for End-to-End Video Management Solutions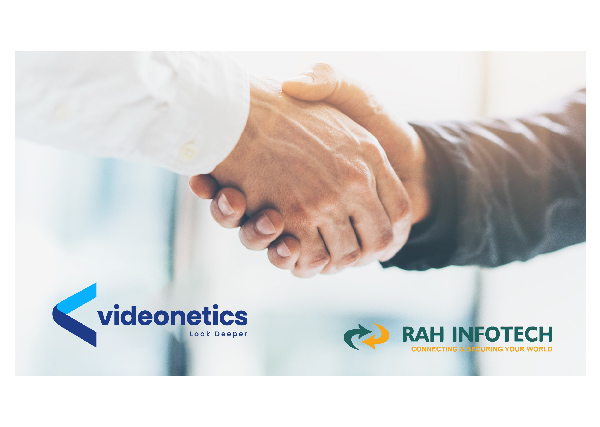 India, July 27, 2023 - RAH Infotech, India's leading value-added distributor and solutions provider of technology products and digital transformation solutions and services, today announced their association with Videonetics, market leaders of ingenious solutions with the world's first AI & DL powered Unified Video Management Platform. RAH Infotech understands the need to tap into distinctive technologies and solutions based on market needs. With this understanding of the demand for technologies that help with end-to-end video management, RAH Infotech has partnered with Videonetics.
"The biggest investment the society can make today for their safety is via technology. The advancement achieved in technology has led to concepts like smart technology, smart cities, and more. Our collaboration with Videonetics is with the purpose of helping customers in this line of technology implementation and utilization. With the use of tools and technology related to video data, there is a need also for strong end-to-end video management solutions. We are happy to have tied up with the market leader across verticals who have secured 80+ airports, 150+ cities, 100+ enterprises and monitoring more than 20k traffic lanes," said Ashok Kumar, Founder & Managing Director at RAH Infotech.
Extracting actionable intelligence from ever-increasing volumes of video data with accuracy and speed is critical for proactive monitoring and advanced surveillance. Videonetics leverages its innovative and patented technology to solve real-world problems in wide demographics by offering open & agnostic, flexible, and end-to-end video management solutions. The Unified Video Management Platform, powered by indigenously developed Artificial Intelligence and Convolutional Neural Network-based Deep Learning framework, provides operational efficiency, data-driven insights, situational awareness, and actionable intelligence. At the same time, its neoteric approach helps create products and solutions that are integrated yet modular, ONVIF conformant, OS & hardware agnostic, cloud-ready, scalable, and interoperable.
Videonetics' product portfolio is industry agnostic and ideal for Safe & Smart Cities, Transportation, Critical Infrastructure, Aviation, Industrial, Enterprise, BFSI, Retail, Hospitality, and Education. The portfolio encompasses:
Intelligent VMS
AI-Enabled Video Analytics
Intelligent Traffic Management System
Facial Recognition System
VSaaS: Cloud-based Video Management Platform
On this appointment, Avinash Trivedi, VP – of Business Development at Videonetics expressed, "We are delighted to enter into a distribution agreement with RAH Infotech, whose competence and expertise will further expand our reach through their extensive partner and reseller ecosystem. I am confident that our joint Go-To Market strategies will cater to the growing demand for AI-Powered video management solutions across verticals, thereby accelerating our growth plans in India."
RAH Infotech offers comprehensive solutions to effectively manage data, network, security, regulatory environment, or operating sector through an integrated ecosystem. The distribution and reseller programs nurture partners to ensure their success. RAH Infotech has always focused on strengthening its partner ecosystem by aligning its business with emerging technologies reflected in its product portfolio.
About RAH Infotech
RAH Infotech is India's leading value-added technology distributor and solutions provider. Headquartered in New Delhi, RAH Infotech has been providing world-class IT solutions since 2005 to a large number of channel partners and enterprises in India & SAARC regions. Our rich portfolio includes a wide range of best-of-breed solutions to address requirements across Security, Data, Network, Application, Storage, and beyond.
As a top-tier technology enabler, we manage the entire value chain of data management requirements of enterprises and protect their digital assets. We partner with the finest global technology firms to develop customized IT solutions in the area of cybersecurity, networking, cloud computing, data management and application management for various industry verticals.
Please visit our official website: https://www.rahinfotech.com/
Subscribe to our newsletter and get latest updates, news in your inbox