Facilitating Traffic Enforcement with Transparent Ticket Management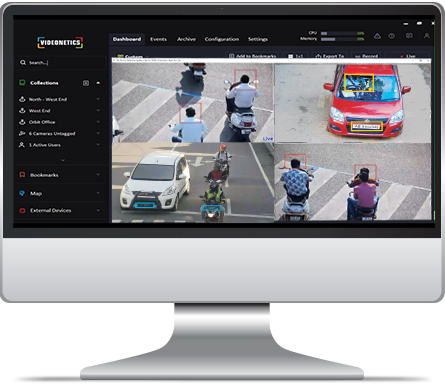 While identifying and detecting violations, it is necessary to penalise violators to improve traffic rule enforcement, instil discipline in drivers, and mitigate road accidents. Authorities must equip themselves with a modernised E-Ticket Management software that prosecutes offenders, identifies repeated offenders and levies fines on them. Our Integrated E-Ticket Management System is a comprehensive solution that allows you to manage evidence generation & validation, payment status and much more in a single dashboard, bringing greater transparency to traffic enforcement.
Integrated E-Ticket Management System is an open architecture E-Ticket Management software that integrates with the ITMS suite to manage generated e-tickets effectively and aids in better traffic enforcement. Additionally, it allows the operator to handle various types of violations in a single e-ticket. E-Ticket Management System also facilitates integration with handheld terminal/ PDA for on-the-spot ticket generation, making your operations smarter and better.
Empowering Authorities with Modernised Ticket Management System
With E-Ticket Management System, you get assurance of a robust and modular solution with a plethora of features that simplify the hassles of ticket tracing, generation and management, all while safeguarding your critical data against cybersecurity threats and ensuring Traffic discipline.

Easy Operability & Installation
Simplify your operations with the user-friendly, central web-based interface and a dedicated mobile app for Android phones and handheld devices/PDA.

Vehicle Database Integration
E-Ticket Management System allows easy integration with the NIC/VAHAN database along with API based framework that facilitates integration with local, regional and international vehicle databases as needed by any governing authority.

Ticket Management
Uniquely identify and search tickets, manage a large number of ticket along with the option to search history of offences by location, offender, device user, generation type, etc.

Ticket Traceability
Keep records of generated tickets for future reference. Furthermore, tickets issued by the handheld device can be tagged with GPS location to trace the exact location of the offence.

Manual Ticket Generation
Upload images and text to generate tickets in semi-automated mode. Use web-based data entry for manual ticket generation.

Detailed MIS reports
Obtain detailed MIS or standard reports from a central location based on the type of offence, location, officer, offender, etc., whenever required.
Video Gallery
Traffic Monitoring Solutions by Videonetics
Videonetics Traffic Management System in Anna Nagar, Chennai
No Helmet Detection & Triple Riding Detection by Videonetics
Customer Speak
As challans were dispatched to the residence address, people had to pay, and it was quite strict. Now people are more aware about traffic rules, leading to a reduction in the number of e-challans.
Nitin Dave
Media Manager, Bhopal Smart City